David Munnelly and Philip Masure met at a session in Co Mayo, Ireland, in 1998. They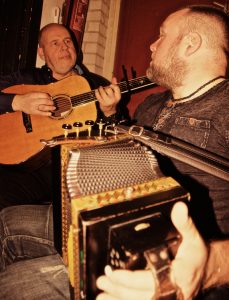 immediately where attracted to each others music.
Since then, they have been touring all over the world, as a duo, but also in different projects like Andar, MFM and The David Munnelly Band. As a duo they bring a mix of instrumental and vocal music, inspired by the Irish tradition as well as Philip's Flemish background. Although they play mostly Irish music, their repertoire includes a lot of their own compositions which sometimes sound more classical or even jazzy. This is all blended together with a perfect doses of humor, which makes their concert a worthwhile experience.